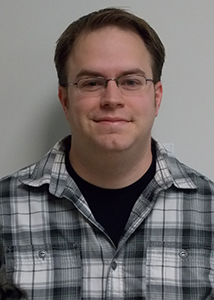 About Me
Note: As of Oct. 1st 2016, this page is a (long awaited...) work in progress.
I have a passion for many things in life, but certainly the dominant passion throughout the majority of my years has been meteorology. I set my sights on this field of science at a very young age and that interest endured long enough to guide my choice in courses for my first year at the College of DuPage in 2003. Despite taking a leisurely approach to my course load, focusing mainly on topics I had a strong interest in, I very quickly knocked out every meteorology course available in our program and recognized it as something truly special to be a part of. In 2005 I began working for the program as a student aide, taking on tasks such as preparing daily forecasts, tutoring students and coordinating with our (at the time) budding student chapter of the American Meteorlogical Society (occasionally serving as an officer). In 2006 I started regularly acting as a "Storm Chase Assistant" on one or more of our yearly storm chases which I still do to this day. In 2007 I started working as an official Contract Weather Observer through the FAA at O'Hare International Airport. There, I ensure accurate and timely weather data is transmitted and logged at Chicago's offical NWS climate station. Ask any observer and they will admit without hesitation that the duties at that job are far less glamorous than they may seem, but to the passionate employee they offer their own rewards! Also in 2007 I began dabbling in a seperate interest; web design and development, beginning with the fundamentals of HTML and crude Javascript. This quickly led to being offered responsibility of maintaining the website for our AMS chapter. By 2010 I had started taking a few classes in web design that spurred a complete overhaul of the CODAMS website. This experience thankfully prepared me for the position that I would come to fill by 2011, as webmaster for COD NEXLAB.
This job started out as a crash course in PHP and forced me to solidify and improve upon my skill-set with HTML, CSS and Javascript. Having used our site habitually since my involvement with the program, I had plently of concepts I wished to explore and implement for NEXLAB and that remains true to this day. I've been both inspired and humbled by the daunting task of building, maintaining and improving a site that has such a large and varied audience. But when it comes right down to it, all of us at NEXLAB approach development with the same simple frame of mind; "What do I want to see on our website and what tools do I want it to have? What will make this challenge of interpreting the weather faster, easier, more intuitive, less tedious, etc?" We think about those questions and then we find answers to them. It starts as a selfish process, that then becomes a gift we proudly share with the rest of the meteorological community.
Apart from meteorology, I'm a general geek about many other fields of science; be it Astronomy, Physics, Chemistry, Biology, Geology, Volcanology, Neuroscience, etc. You name it; I'm fascinated by it. I'm also passionate about the arts; I play guitar and love music from a wide variety of genres. Naturally, a passion in Web Development is derived from a geeky interest in computers in general. I must admit this comes from a childhood where getting a PC video game to work was not necessarily an easy task! It usually meant you had to figure out
how
the game worked before it would
actually
work. That tendancy of wanting to peak under the hood and see what made a computer and it's software tick naturally translated to web pages as well. Certain fun tasks that I tend to take on with my normal duties at NEXLAB sometimes end with me also getting my hands dirty with video editing and graphic design.